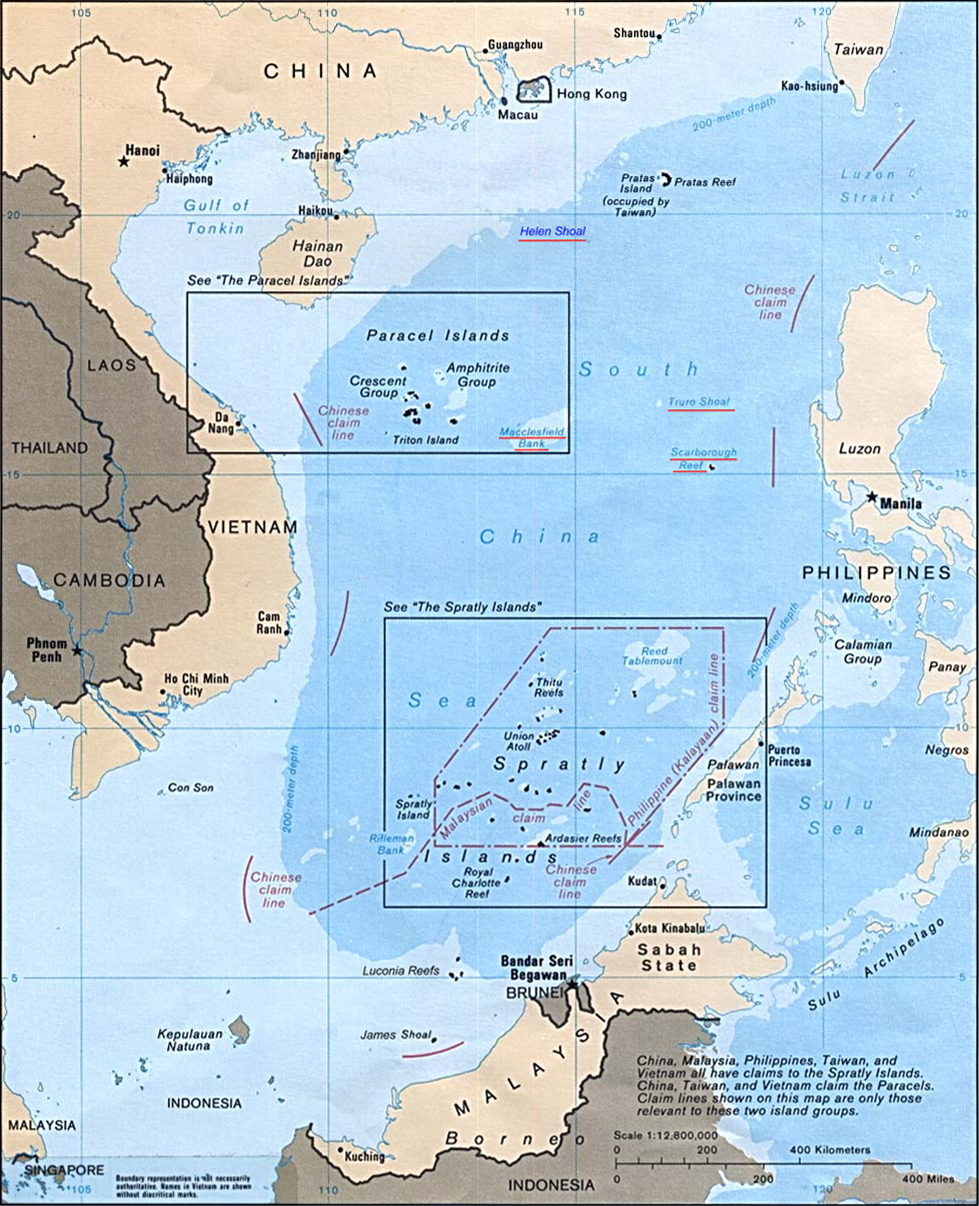 CIA Map of Territorial Claims in the South China Sea
China and the USA continue to have differing positions on the South China Sea:
U.S. says most of China's claims in South China Sea are unlawful

July 14, 2020

China accuses US of sowing discord in South China Sea

China accuses US of sowing discord in South China Sea

July 14, 2020
BEIJING (AP) — The Trump administration's rejection of broad Chinese claims to much of the South China Sea came across in Asia as an election-year political move, with some appealing for calm amid fears of greater tensions.

China accused the U.S. on Tuesday of trying to sow discord between China and the Southeast Asian countries with which it has long-standing territorial disputes in waters that are both a vital international shipping lane and home to valuable fisheries.

"The United States is not a country directly involved in the disputes. However, it has kept interfering in the issue," the Chinese Embassy in Washington said on its website. "Under the pretext of preserving stability, it is flexing muscles, stirring up tension and inciting confrontation in the region." …

James Chin, head of the Asia Institute at the University of Tasmania in Australia, said the U.S. stance was nothing new because it has always rejected China's "nine-dash line," as its claim to the South China Sea is known.

"What is new is that Trump has sort of made the South China Sea a new focus point for his confrontation with China," he said.

Both Indonesia and the Philippines joined Pompeo in calling on China to abide by an international arbitration court ruling in 2016 that disqualified many of China's claims.

Malaysia's foreign ministry declined to comment. https://apnews.com/02cbff483a8b7f77c6c35ae8b3969b31
The USA does not want a real war with China and China realizes that–but we are seeing a war of words. A YouTube video of interest may be Is China THE Threat to the United States of America?
Various ones have expressed concerns about where this may lead. Notice the following:
A "TICKING time bomb" on Australia's doorstep is counting down to war — and an expert says the world is blind to it.


A MAJOR new war is looming — and this one sits worryingly close to home. …

China is set to overtake the United States as the world's dominant power over the next decade. …

According to the Lowy Institute's latest Asia Power Index, China is set to surpass the United States as the most powerful country in the Asia-Pacific region by 2030.

Nowhere is this more clear than in the South China Sea, a marginal sea in the Pacific Ocean bordered by 10 competing countries. Over the past five years, the size and scale of China's land-reclamation has intensified, with satellite evidence of military build-up and threats uttered to the rest of the world — including Australia.

The sea continues some of the world's most important shipping lanes, and is believed to hold trillions of dollars in undiscovered oil and gas reserves. …

Dr Taylor describes Taiwan as a "ticking time bomb".

"America's military ability to defend Taiwan is already at its limit," he writes. "The US advantage will likely be gone in a decade … allowing Beijing to deny America access to this theatre. …

"Because time is running short. The doomsday clock is ticking, and midnight is almost upon us." https://www.news.com.au/technology/innovation/military/a-major-new-war-is-looming-and-this-one-sits-worryingly-close-to-home/news-story/c7df5e33026348beb5ed54afd6cb706c
Well, "doomsday" or Armageddon will come, but not for several years–at least.
The Bible tells of a time when there will be a confederation of the 'kings of the east' that will get together:
12 Then the sixth angel poured out his bowl on the great river Euphrates, and its water was dried up, so that the way of the kings from the east might be prepared. 13 And I saw three unclean spirits like frogs coming out of the mouth of the dragon, out of the mouth of the beast, and out of the mouth of the false prophet. 14 For they are spirits of demons, performing signs, which go out to the kings of the earth and of the whole world, to gather them to the battle of that great day of God Almighty.

15 "Behold, I am coming as a thief. Blessed is he who watches, and keeps his garments, lest he walk naked and they see his shame."

16 And they gathered them together to the place called in Hebrew, Armageddon. (Revelation 16:12-16)
This will include Russia, China, Korea, Japan, possibly even the Philippines. Things will one day dramatically change militarily, in Asia, in terms of cooperation.
It needs to be understood that China does not just want territory and rights in the South China Sea. It also wants to dethrone the US dollar as the world's reserve currency (watch also US Dollar being challenged by Gold-Petro-Yuan) and lead the world. Its Silk Road project is a way to get influence throughout Asia (watch also Is China paving roads to Armageddon?). Similar to what is prophesied for the European Beast of Revelation 13, China is using economic and forceful means to pursue its objectives. But China will NOT be the dominant leader of the world after the USA–Bible prophecy clearly points to Europe for this (for more details, see Europa, the Beast, and Revelation).
China also has long had eyes on Australia. Notice the following:
24 May 2018

Trade Minister Steven Ciobo sought to downplay reports of strained ties with China after state media said Australia should be punished for its arrogance.

In an interview with Bloomberg Television, Ciobo acknowledged that there were differences of opinion and said dialogue between the two trading partners was critical. But he insisted the relationship was on a sound footing.

"None of us get particularly worked up over media. Whether it is media here in Australia or media in China, there are elements of it that frankly hyperventilate," Ciobo said Thursday. "What matters is the high-level discussions that actually take place."

China's Foreign Minister Wang Yi earlier this week blamed Australia for difficulties in the relationship, saying the nation should "discard its traditional thinking and take off its tinted glasses to take a proactive approach towards China's development." …

China's Global Times newspaper this week said Beijing should cut imports to teach "arrogant" Australia a lesson and leave it "hanging for a while."

Ciobo said that China had in the past accused Australia of being too "beholden" to the U.S. — its most important security partner. China is Australia's biggest trading partner. https://www.bloomberg.com/news/articles/2018-05-23/australia-downplays-china-spat-says-media-can-hyperventilate
China has made similar disparaging comments about Australia before. Contrary to the hopes of people like Australia's Trade Minister Steven Ciobo, this will not end well for Australia. We made a video with Chinese comments about Australia and biblical prophecies that you may wish to watch: Are Chinese threats against Australia for real?
What will Australia do?
Australia has always believed that it doesn't have to choose between its economic relationship with China and its defense alliance with the United States. But 2018 is already shaping up to be the year of the hard choice. …

There is a lot at stake, including potentially Australia's ongoing prosperity.

China is clearly not happy with Australia's adherence to the US alliance and if it follows through on veiled threats to boycott Australian exports and limit investment, Canberra's loyalty to Washington could come at the expense of significant economic pain.

China's hawkish Global Times newspaper, widely viewed as a mouthpiece for the ruling Communist Party, spared no niceties in an op-ed last week that warned Australia against "interference" in the South China Sea (SCS) territorial disputes.

Australia was "kissing up" to the US and risked "poisoning" its relations with China, which could "adopt strong countermeasures which will seriously impact Australian economic development." 01/08/18 http://www.atimes.com/article/australias-hard-choice-china-us/
Militarily, the Aussies realized decades ago that they would rely on the USA.
Australia will learn that the USA will one day be defeated (Daniel 11:39) and not be able to defend it.
It also will likely find out that China will take it over (watch Are Chinese threats against Australia for real?).