"Someone once said you need to learn how to read the lines before you can read between them." Richard Paul
As The Star reports: "Prime Minister Justin Trudeau says [ Russia] will face real consequences for its aggression on the world stage and here in Canada, where he said intelligence agents have used social media and propaganda to meddle in democracy."
Wed., April 4, 2018
"Prime Minister Justin Trudeau is warning Russia that it will face "real consequences" for its aggression on the world stage and here in Canada, where he said social media and propaganda have been used to meddle in democracy, including a smear campaign aimed at Foreign Affairs Minister Chrystia Freeland.Flanked by Jens Stoltenberg, the secretary general of NATO, Trudeau said that Russia's "illegimate and illegal" actions — from its 2014 invasion of Crimea to the more recent poisoning on British soil — cannot go unchallenged."
Essentially, Mr Justing Trudeau is a follower of orders from abroad. Given NATO head Stoltenberg has made clear that North Americans will be a North American NATO headquarter as geo-political players are now openly placing themselves for what wars are surely coming to pass!
---
We also send Mr. Justin Trudeau and Eric Ruel at Les Productions Ruelle an email requesting a response to this article to see if he can make all Canadians inclusive in his Canada. When jobs and careers are stymied by government bureaucracy, but accomodated for the privileged few. So far we have heard back from Les Productions Ruelle:
"Hello, This is an original idea by Productions de la Ruelle. The two principal protagonists, Senator Patrick Brazeau and MP Justin Trudeau, accepted to be filmed for this documentary about politics and boxing.
The documentary was funded like every other documentary in Canada with broadcasters licenses and Tax credits.
This film is not promoting or bashing any of the two politicians.
Did you see the film? You should rent it and see for yourself.
You might also be interested in our previous film titled Disunited States of Canada."
Best Regards,
Productions de la ruelle's team
"Cost of production is private information. Festival submissions were free. By renting the film (see the link below) you will get the other info needed in the end credits." Eric Ruel
http://www.productionsdelaruelle.com/
And while we are awaiting Mr. Trudeau's response, especially to the cost of the entire production, since SODEC , Canada Media Fund and Telefilm Canada are not private companies, but tax funded by Canadians, we wanted to address the above mentioned quote from Mr. Justin Trudeau. Mainly his idea of freedoms being protected as their conscience dictates, those who have them, while legislating against the main idea, cited by Justin, to create , what is commonly regarded as being The Fruit Loop circular reasoning!
"My idea of freedom is that we should protect the rights of people to believe what their conscience dictates, but fight equally hard to protect people from having the beliefs of others imposed upon them." Justin Trudeau
I think what Justin is trying to say, is, when he says he is a feminist is that, either he wants to come out or he does not! At least that's what I heard him say today at the Nato meeting press conference held on April 4th,2018 , CPAC online/broadcast. Mr. Trudeau when asked by a reporter about this carrying babies in other people's bodies, surrogate mother legislation, he was saying to Canadians, again, we will be subject to Identity politics as my young kids do here at home! He now wishes to identify with Feminism and Surrogate mothers! Okay, then, who really cares!
Mr Trudeau, if you wish to include everyone in laws and charter rights, why make it a public nuisance to depict your crude sense of morality upon the public? Please, I do not believe any Canadians is offended by these issues you are creating in this "new" piece of legislation.
Please stand for the truth and Come Out! Tell Canadians where the future is heading with a Nato Alliance in North America! A cashless society as Desjardins and others close more and more ATM outlets and branches throughout Canada as Canadians join the chorus of voices, that others are preparing us for the crypto-currency wave, Danielle Magazine has spoken about , but then again, is that not the reasons for Canadians being $150 million dollars a day in the hole, thru Justin's continued polices his father made happen in 1974!
Now as for Justin's Feminist views, which I truly and honestly enjoy for their great twists of ironies, which, Angry Harry, explained so well to me a few years ago, and it goes something like this.
You know there are some guys that have all the luck! Especially Prime Minister Justin Trudeau who had the fortuitous fortune of stumbling about finding Les Productions Ruelle back in his days as MP for Papineauville QC to propel him to the Prime Minister of Canada position with I say , 24 awards from various film festivals throughout Canada, which gave Justing Trudeau a most spectacular ride on the wings of government grants and bourses. Canada Media Fund, SODEC & Telefilm Canada in particular.While leaving so many young aspiring actors and actresses, and all crews that make feature films possible, along with every entrepreneur here in Canada behind his trail! Justin and Les Productions Ruelle surely netting millions with the Royal treatment for their efforts in making Les productions Ruelle the winner of many awards! And Mr. Justin Trudeau Prime Minister of Canada with all this free publicity worth millions. Which movie we can now rent at
Vimeo here
.
" Against whom do you jest? Against whom do you open wide your mouth and stick out your tongue? Are you not children of rebellion, offsprings of deceit, who inflame yourselves among the oaks, under every luxuriant tree," Is 57:4-5
Photograph & pictures copyrights to Les Productions Ruelle
Of course when I was an aspiring filmaker in Montreal, I had an opportunity to get involved with talks of a 3 to 5 million dollar budget feature film production. But with all the restrictions involved, I was left to make them with the assistance of my wife and friends, during my 2 years in the Montreal film industry, I learned much about show biz! Remember, it is a business first and foremost!
So during my brief entrepreneurial journey, I was able to complete two feature films and a couple of small documentaries, which for an amateur, is remarkable as they were able to be produced. Many aspiring producers/directors can only dream what Justin Trudeau received on a silver platter. What if every Canadian had the opportunity to be given such awards for what they aspire to dream about!
Oyster Films Productions with Damascus Productions. ( 2008-10)
This was all made possible for under $160 hundred thousand dollars! ( I think) NO funding from any government sources. Except SODEC for a script treatment. Then the big production houses and the lawyers started talking millions! Remember, I had never done this in my life. It was a dare, kinda of. So I remember posting on Craigslist looking for a feature film Director. I was laughed at from the beginning but within 6 months I was in pre-production with a crew and all casting done with various locations. It was great but it did cost $100,000 for the first film but then I did the directing/producing on the second one and saved, coming in at $50k for the second and a better feature film! And we got excellent quality actors and actresses. With a great crew. All together we we're 150. Lots of lunches I tell you. I was always at the pawn shop with this and that to get it done. Lots of fun. But forget putting the movie in the film festival circuit as its costs are also to be factored in , which we could not afford!
Corey Sosner, Holy Adams , Paul Sauders , Richard Bosada and talented Paul Rossi, Written by Leo St Pierre & Diane Condo, Director  Jean-Francois Daigle ( Sec 753.2) and Richard Paul Condo ( Section 753.2 & In The Bag, 2008-09) , Director of Photography Alexandre Bussière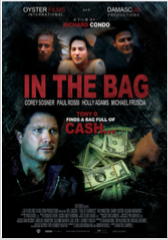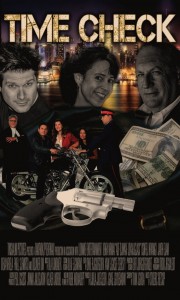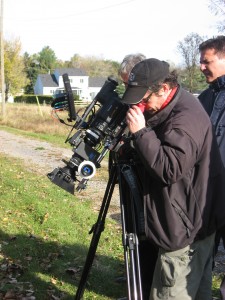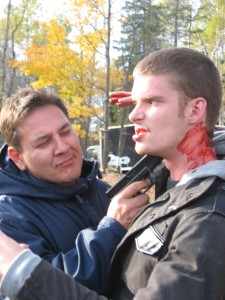 Pictures Lois Siegel Entertainment and Paul Couvrette
Richard Paul