Seems there just cannot be any peace for the coming months ahead while relations between American and Russian deteriorate sharply  while, "US envoy Nikki Haley said Russia – a Syrian military backer – had the "blood of Syrian children" on its hands." As BBC News reports over the United Nation, UN Security Council meeting on the alleged chemical attack in Syria.
"US President Donald Trump pledged later on Monday that the incident would "be met forcefully", adding that the US had a lot of military options and a decision on a response would be taken "tonight" or "shortly".
Calling Syrian President Bashar al-Assad a "monster", Ms Haley said that if the UN Security Council acts or not, "either way, the United States will respond".
"Meetings are ongoing, important decisions are being weighed even as we speak," she said.
RT News reports essentially the same thing, adding, "Trump has used harsh words about the alleged chemical attack, calling Assad an "animal" and vowing there would be a"big price to pay" for the purported use of chemical weapons. This echoes his words from a year ago, when the US launched missiles against a Syrian airbase after anti-government militants accused Damascus of a chemical attack in the town of Khan Shaykhun."
And just in case the words of war weren't resonating loud enough , RT reports,  "President Hassan Rouhani said on Monday, during a ceremony marking the 12th anniversary of the National Day of Nuclear Technology. He added Tehran's response "will be stronger than what they imagine and they would see that within a week."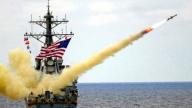 Pasteur Richard Paul