A likely candidate for president in 2020, Sen. Cory Booker of New Jersey took the opportunity of CIA director Mike Pompeo's confirmation hearing for his nomination to become secretary of state to show the Democratic Party base his social-issue bona fides.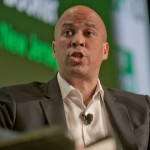 IMAGE CREDITS: JD LASICA / FLICKR.
The former Kansas congressman emphasized he has a record, including in the CIA, of treating every employee fairly, regardless of sexual orientation.
As C.I Scofield (former U. S. District Attorney for Kansas) pointed out in his commentary. "The world in the present world system, the ethically bad sense of the word refers to the order or arrangement under which Satan has organized the world of unbelieving mankind upon his cosmic principles of force, greed, selfishness, ambitions, and pleasures; This world system is imposing and powerful with military might; is often outwardly religious, scientific, cultured, and elegant; but seething with national and commercial rivalries and ambitions, is upheld in any real crisis only by armed forces, and is dominated by satanic principles."
Richard Paul