A young Orléans man with a history of schizophrenia was nabbed by the RCMP last month over fears he would engage in terrorism.
Abdulmuti Elmi's episodes have landed him in trouble with the law in the past but now he's landed on the radar of the RCMP's counter-terrorism unit and in June he was arrested on a terrorism peace bond.
The Mounties say they feared Elmi was about to commit terrorism — notably to leave the country to wage jihad abroad, according to sworn June 11 court filings by Const. Claude Champagne.
Elmi was required to live with a surety in Orléans and abide by the routine and discipline of the home, according to court records.
But Ottawa police say Elmi ran afoul and was at large on June 22 when they charged the mentally ill man for opening a bag of chips at an Elgin Street convenience store without paying for them. He dumped some of the chips on the floor and, when asked if he was going to pay for them, said he wanted to go to jail. Ottawa police officially charged him with mischief for damaging the bag of potato chips. The police also charged him with robbery for allegedly stealing money.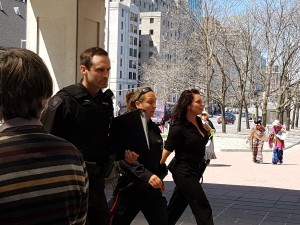 Back in May — a month before he was arrested on the RCMP terrorism bond — Elmi was charged with assaulting a man with a liquor bottle. He was also charged with shoplifting at the LCBO's big store at 50 Rideau Street.
This week, Elmi pleaded guilty to assault and theft under $5,000. He will now be subjected to a mental-health assessment before he is sentenced.
The "Fear of Terrorism Offence" requires Elmi to obey his bond conditions for up to 12 months, according to court filings.
Elmi's defence lawyer, Jessica Abou-Eid, declined to comment.