Take that, Vancouver!
Turning off the oilpatch taps to B.C. is often dubbed the nuclear option in these parts.
We wait for the big bang.
The thought of it gets the political blood of many an Albertan flowing, this twist of the arm so gas prices in B.C.'s Lower Mainland soar and the government on the Left Coast cries uncle over all this pipeline nonsense.
Yes, a law giving the Notley NDP the power to drop the hammer is expected to be jawed over by provincial politicians later this week and get the green light soon.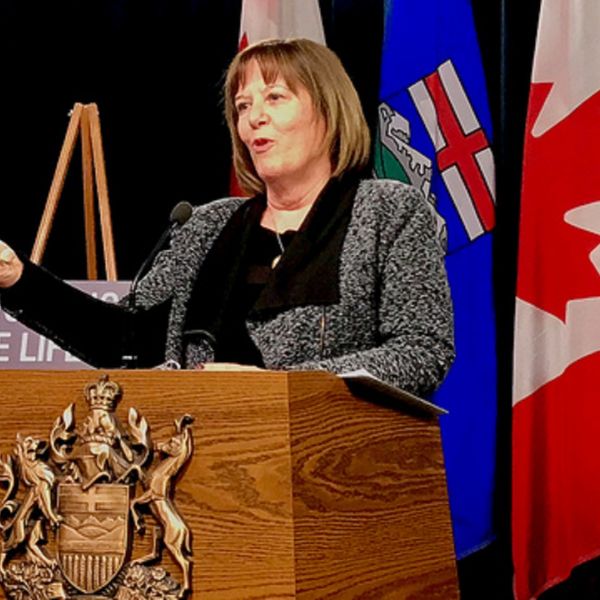 Much of the opposition thinks the Notley government will never pull the trigger. They quote B.C. Premier Horgan telling us Notley told him the Alberta government didn't necessarily think they would act on it.
Marg McCuaig-Boyd is the energy minister, one of Notley's inner circle. Marg is from up in the Peace Country and she pushes back in plain English.
"This isn't just talk. B.C. keeps throwing up roadblocks in front of us. This isn't a bluff. We're absolutely prepared to use it, should we need to use it."
May 31 is a big date. Kinder Morgan, owners of the stalled pipeline to the west coast, want to know they can build their Ottawa-approved project without all the games being played to delay construction.
The NDP energy czar says the Notley government could trigger a turning off of the taps before or after May 31.
"There's no timeline. If we need to use it, we'll use it sooner. We're not messing around," says McCuaig-Boyd, adding she's promised the oilpatch there'd be no surprises on how it would roll out.
Marg says she's got plenty of emails of support from folks out of work, folks looking for work, folks from the part of the Peace Country she represents.
She's met with many oilpatch types, talked about this plan.
"Why would I waste their time if we weren't prepared to do it?" she says.
There are learned legal beagles who believe Alberta's turning off the taps won't fly in court and B.C. would fight back and almost certainly try to get an injunction to turn the taps back on.
The Notley NDP has heard a lot of legal advice. McCuaig-Boyd is confident Alberta is on solid ground.  In fact, she's confident shovels will be in the ground this construction season.