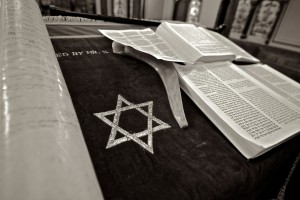 Thousands of Germans from all faiths and walks of life marched in Berlin Wednesday to show solidarity with the Jewish community, as a new wave of anti-Semitism has been rising.
Many of the protesters wore kippahs — traditional Jewish skullcaps — only days after Josef Schuster, the head of the Jewish community in Germany urged Jews to not to wear them in public due to a rise of anti-Semitic attacks.
Berlin had the biggest protest, but demonstrations are took place in Erfurt, Potsdam and Cologne.
The most recent attack occurred last week. A video of the incident shows a 19-year-old Syrian man allegedly beating a Jewish man, Adam Armush, with a belt  while shouting "Yehudi" (the Arabic word for Jew.)
Deidre Berger, director of the global Jewish advocacy group American Jewish Committee's Ramer Institute for German-Jewish Relations, says the protest was "inspiring."
Iman Jamous fixes the Jewish kippah on her head during a demonstration against antisemitism in Germany in Erfurt, Germany where other Muslims and people of all faiths wore the skullcaps in solidarity with the Jewish community. (Jens Meyer/Associated Press)
"It was in fact very encouraging because it's rare that people will take to the streets to protest anti-Semitism. Sadly it doesn't capture the public imagination. And I don't think it's taken as seriously as it should be," Berger told The Current's guest host Duncan McCue.
Berger said the young man wearing the kippah was actually an Israeli Arab, whose Jewish friend dared him to wear the cap.
The man said he'd lived there for three years and didn't think it would be a problem, according to Berger. Not long after, he was attacked.
A video of the attack was later posted on Facebook. Police are currently investigating the incident.
Warnings not to wear Kippahs
According to Berger, Schuster modified his initial warning about kippahs at the rally in light of the most recent attack.
"He said, 'What I'm saying is you need to be judicious about wearing a kippah. And think about where and when you're wearing them. And there are certain areas where as a individual you may not want to wear it.' He's certainly qualified the statement, but indeed it's a dilemma," Berger said.
"There's no guarantee that … if someone walks down the street anywhere in Berlin that you will not be at least verbally accosted. The chances are slim."
She adds that it only takes one case to unsettle the entire community.
Berlin had the biggest protest, but demonstrations are took place in Erfurt, Potsdam and Cologne. (Markus Schreiber/The Associated Press)
Refusing to cower to hatred
Bernie Farber, a human rights advocate, social justice consultant and former director of the Mosaic Institute in Toronto, understands the community's fears but also is reticent to "cower" to hatred.
"We can't cower to intimidation and to bullying and to anti-Semitism — and by removing the kippah, that's exactly what we're doing now," he said.
"From time to time life becomes difficult and it becomes even more so if you're a person of colour [or] if you're a visible Jew —  and we have learned over the centuries, very sadly, that anti-Semitism is here with us always [and] sadly always will be."
Farber acknowledged that despite the relative safety of his hometown of Toronto, Canada isn't immune to racism and hate crimes.
"We're not facing the kind of assaultive behaviour that we've seen in Germany, but it's only really one step away. And so all governments have to really come to grips with this," he said.
Migration in Europe and 'a new anti-Semitism'
German Chancellor Angela Merkel has said incidents like what happened to NAME  is part of a new kind of anti-Semitism playing out in Germany. Some of it can be traced to recent immigrant populations, but also coalesce in online communities, he said.
However, Farber doesn't think calling it "new anti-Semitism" changes anything.
"Anti-Semitism is anti-Semitism. It's Jew hatred," he said.
Two members of the Christian Union party's faction, bottom centre, wear Jewish skullcaps, or kippa, during a debate at the German parliament Bundestag, about the 70th anniversary of the founding of the state Israel, in Berlin on April 26. (Markus Schreiber / The Associated Press)
Sabine Sparwasser, the German ambassador to Canada, agreed there's a need to acknowledge issues within immigrant communities, but stressed that most anti-Semitic incidents reported in Germany aren't tied to Arab immigrants.
"There are obviously new imports we have new migration in Germany and a lot of people who come have grown up in countries that teach anti-Semitism or teach anti Israel attitudes … but I think it would be very much too easy to point just to that," Sparwasser said.
"If you look at most anti-Semitic incidents in Germany they actually committed by far right Germans."
Sparwasser was left encouraged by the solidarity displayed at the march, however.
"I thought it was very encouraging yesterday that a group of Muslims in Germany, actually led by a woman put out a hashtag, 'We are all Jews,'" she said. "These kinds of activities need to be encouraged, but also we need to increase Holocaust education."