Sarah, Duchess of York (Sarah Margaret; néeFerguson; born 15 October 1959), is a British writer, charity patron, public speaker, film producer and television personality. She is the former wife of Prince Andrew, Duke of York, the second son of Queen Elizabeth II and Prince Philip, Duke of Edinburgh. She is the younger daughter of Major Ronald Ferguson and Susan Barrantes (née Wright). Sarah has two daughters, Princesses Beatrice and Eugenie of York, who are respectively eighth and ninth in the line of succession to the British throne.
Contents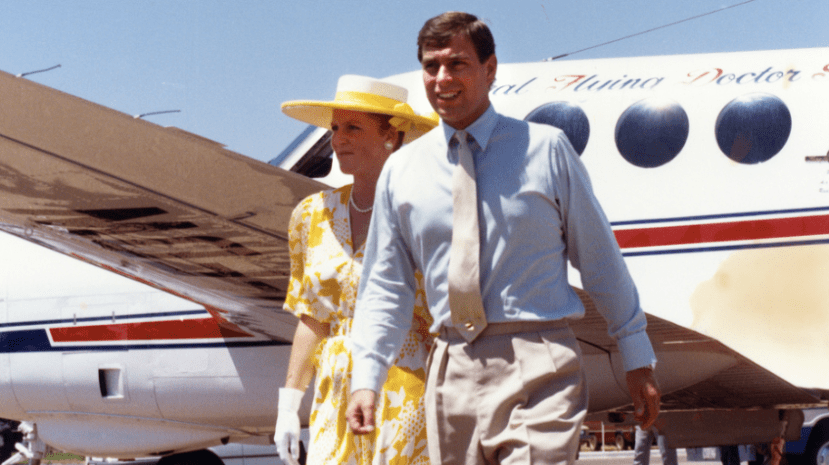 Early life
Sarah Margaret Ferguson was born on 15 October 1959 at London Welbeck Hospital. She is the second daughter of Major Ronald Ferguson (1931–2003) and his first wife, Susan (née Wright; 1937–1998).[2] After Sarah's parents divorced in 1974, her mother married polo player Hector Barrantes in 1975[3] and moved toTrenque Lauquen in the Argentine pampas. Sarah stayed at the 480-acre (1.9 km2) Dummer Down Farm at Dummer, Hampshire, her father's home since age 8.[4][5] Major Ferguson married Susan Deptford in 1976 and had three more children: Andrew, Alice, and Elizabeth.
Sarah attended Daneshill School, Stratfield Turgis. The staff of the school described her as a "courageous, bubbly and outgoing little girl".[5] She then attended Hurst Lodge School in Ascot.[6] She did not shine academically but showed talent in swimming and tennis.[5] After finishing a course at Queen's Secretarial College at the age of eighteen,[7] Sarah went to work for an art gallery.[5] Later she worked in two public relations firms in London, and then for a publishing company.[5] During her youth she reportedly dated Kim Smith-Bingham, a stockbroker, and Paddy McNally, a motor racing manager 22 years her senior.[5][8][9]
Marriage to Prince Andrew
On 19 March 1986, Prince Andrew (fourth in line to the throne at the time) and Sarah Ferguson announced their engagement.[10] Prince Andrew had known Ferguson since childhood, and they had met occasionally at polo matches, and became re-acquainted with each other at Royal Ascot in 1985.[5][11] Also prior to their engagement, Ferguson had accompanied the Princess of Wales during her official tour of Andrew's ship HMS Brazen.[5][9] Prince Andrew designed the engagement ring himself. It consists of ten diamonds surrounding a Burmese ruby. He chose the Burmese ruby to complement Sarah's red hair.[12] With her fun spirit and friendly approach she was initially considered to be a good addition to the royal family.[5][9]
After securing the Queen's permission (which was required by a British law, the Royal Marriages Act 1772, for children of the monarch), Andrew and Sarah were married in Westminster Abbey on 23 July 1986. The Queen bestowed the title Duke of York upon Prince Andrew, and, as his new wife, Sarah automatically assumed her husband's royal and ducal status and became Her Royal Highness The Duchess of York. As Duchess of York, Sarah joined her husband in carrying out royal engagements, including official overseas visits.